Opportunities
To add an opportunity to a contact perform the following:
Click "Contact" on the top black bar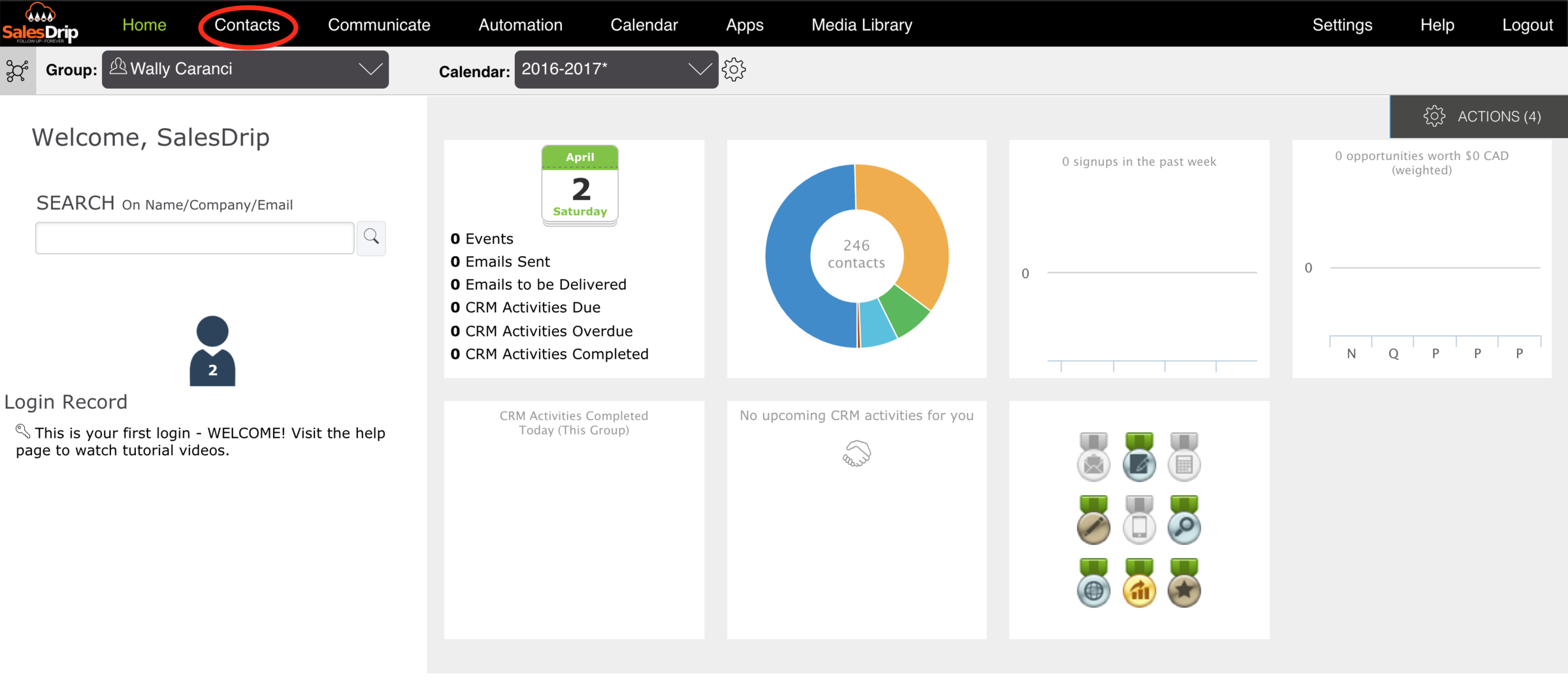 Click the "Edit" button next to the contact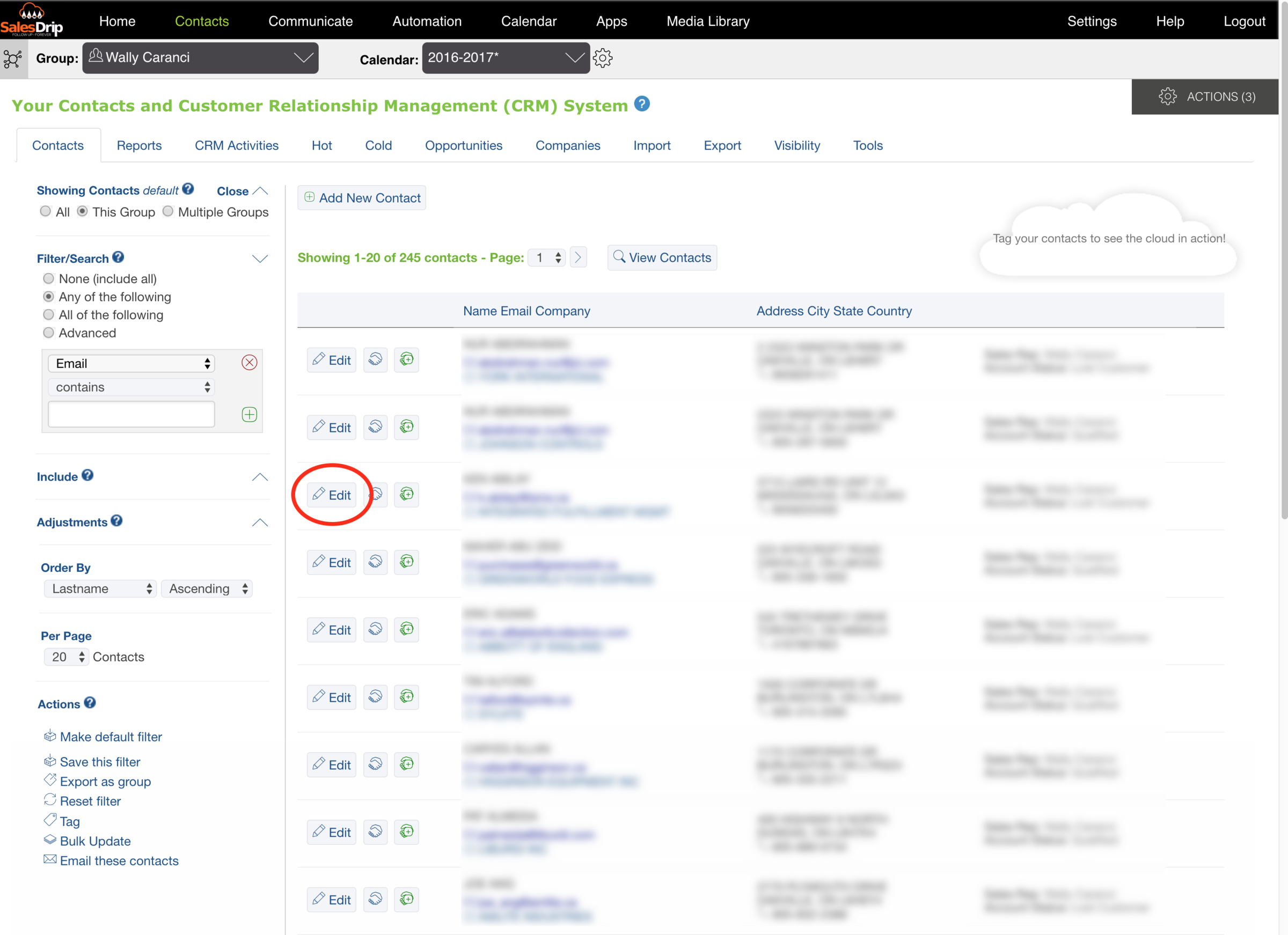 Click the "CRM / Activities" tab
Click the "Opportunity" button
The below is CRITICAL for driving corporate measurement and forecasting reports.
Enter as much data as possible. This is important for future reference!
Enter a product description (ie LTL, TL, etc) and associated $ value
Enter a Value (This is the total $ value - the system will not add the separate product values)
Adjust your % for "Chance to Win"
Enter an "Estimated Close Date"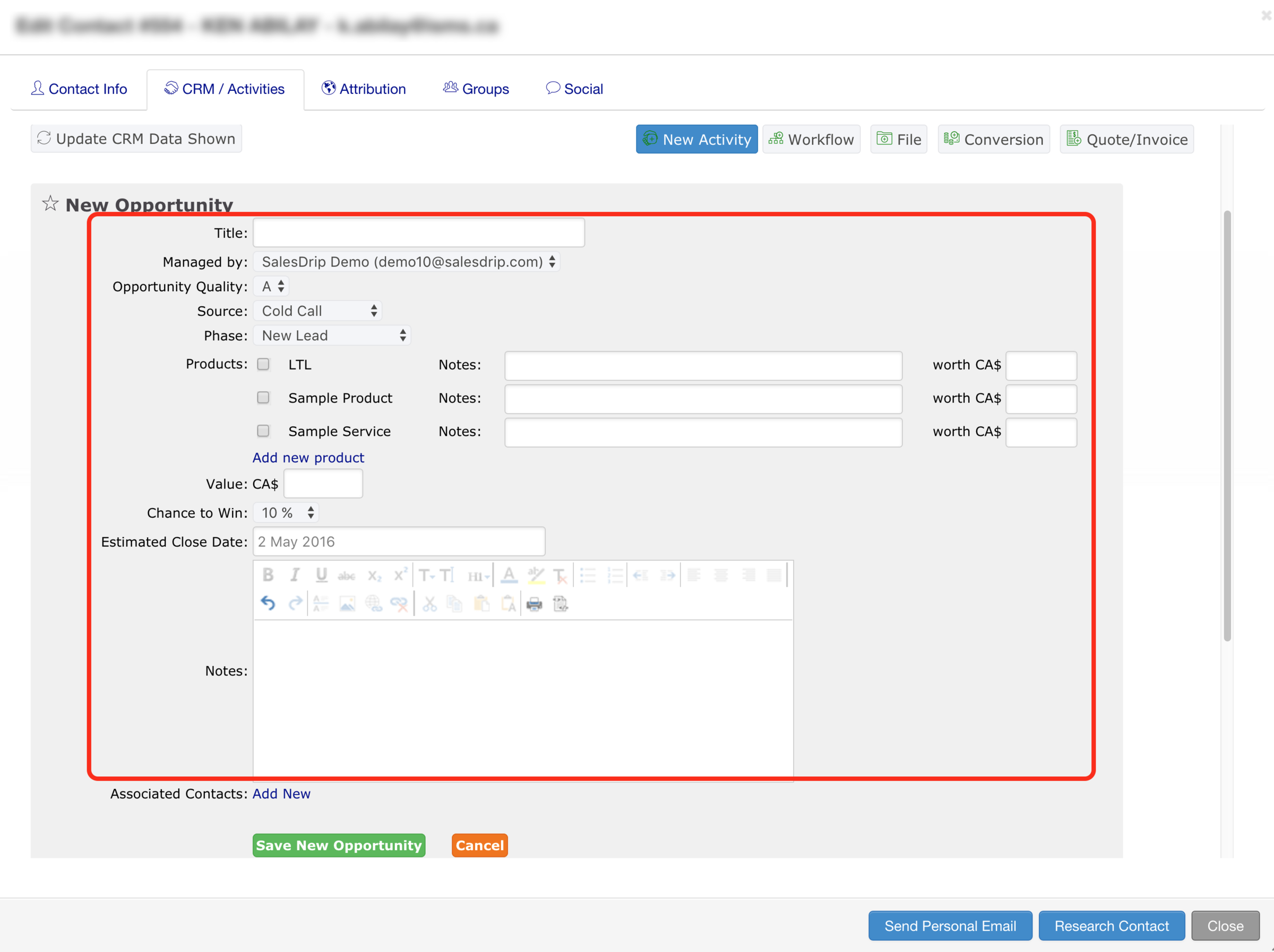 When complete, click the "Save New Opportunity" button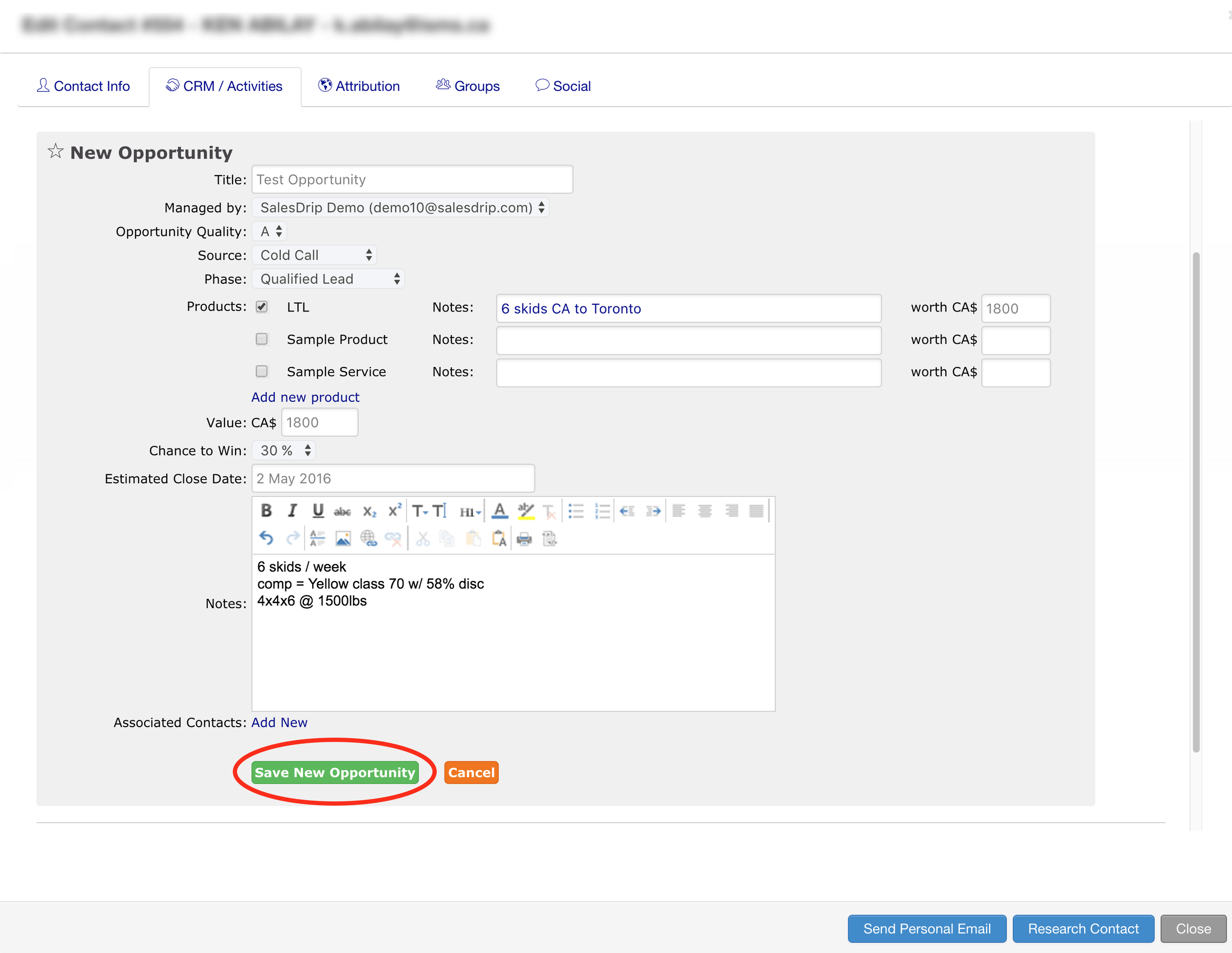 After saving, you can review the opportunity in the contact's CRM / Activities screen.
NOTE: Opportunities are always located at the top of the contact's CRM / Activities screen.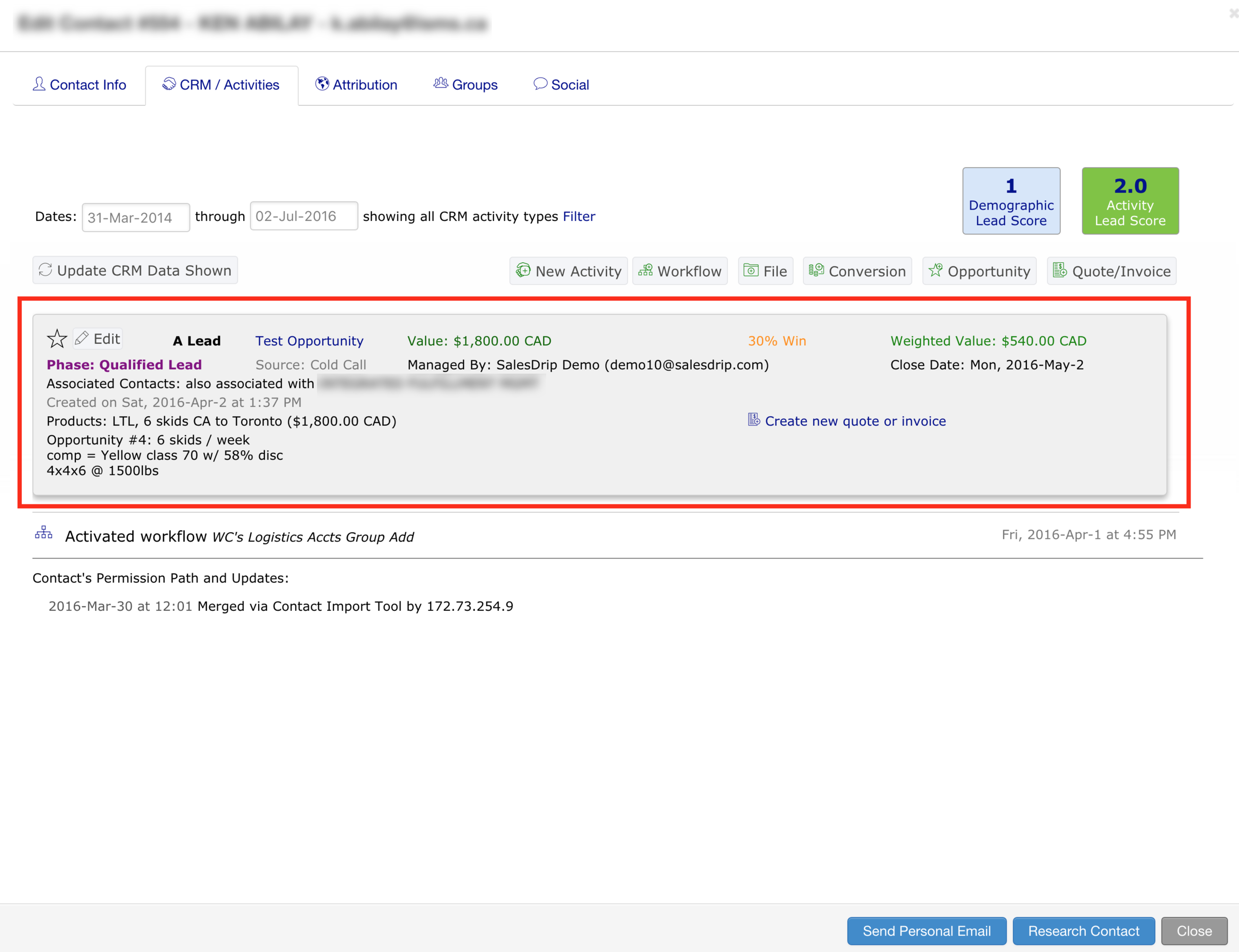 To view the opportunity on your dashboard. click "Home" then "Expanded Dashboard"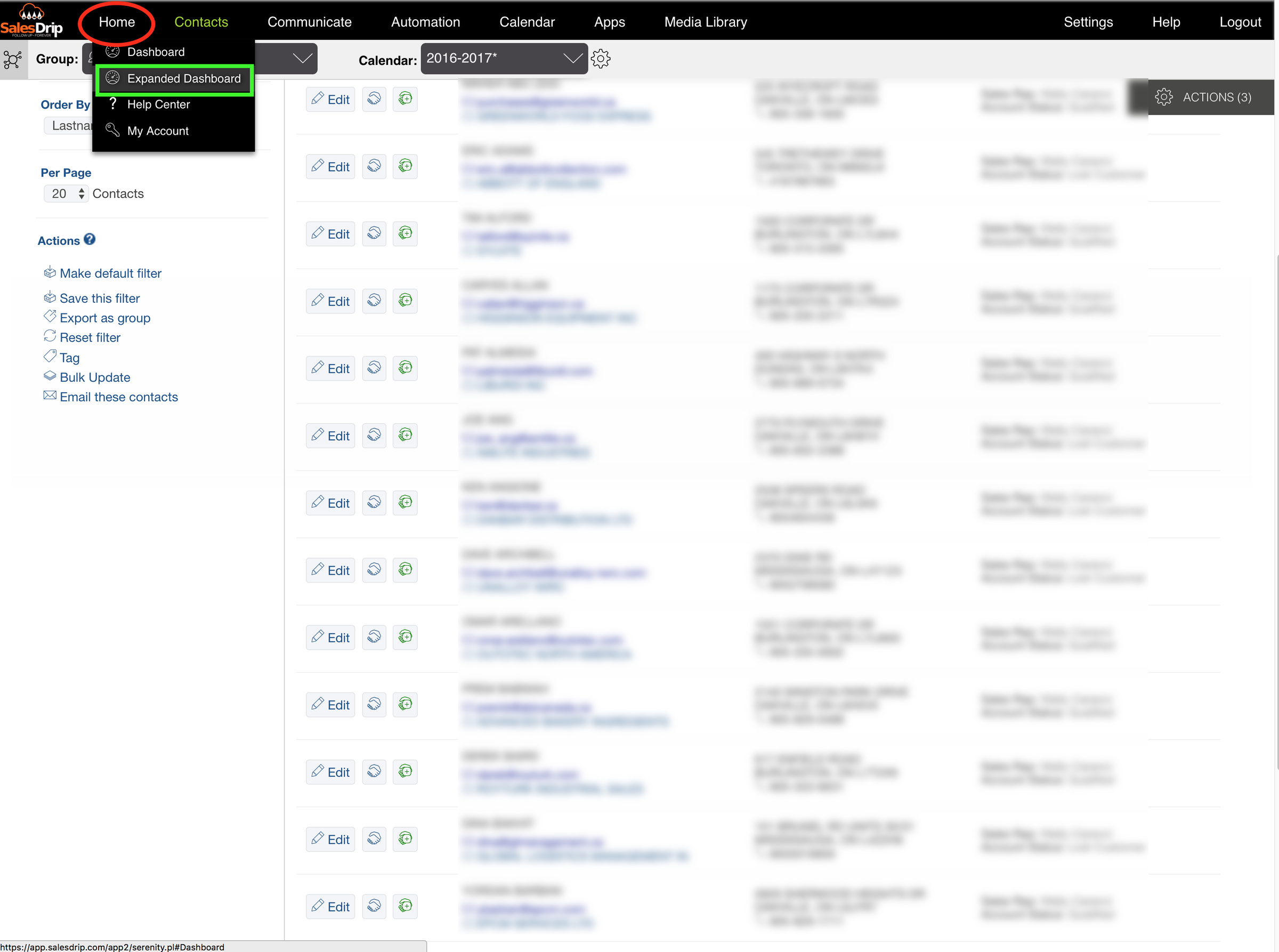 All opportunities you create will be displayed in the "Opportunity Pipeline" section.
If you want to move an opportunity to a different phase, you can click on the "+" in the top right corner and drag / drop it to the phase you desire.
NOTE: SalesDrip adjusts the "Weighted Value" of each opportunity buy multiplying te total vale by the % of Win.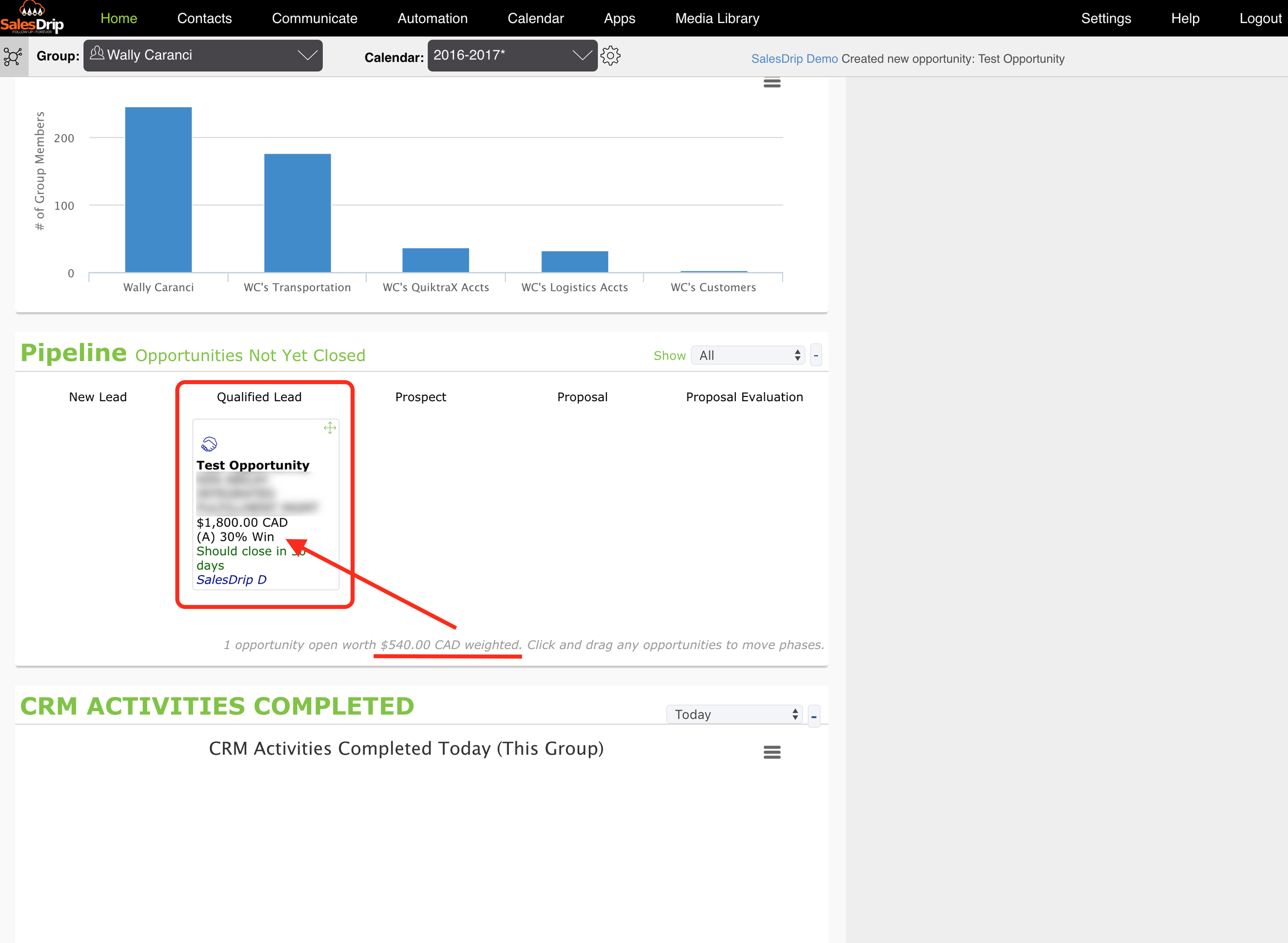 When you determine that your chances of winning the deal increase, you can adjust the % of Winning.
Start by clicking the handshake icon of the opportunity you wish to adjust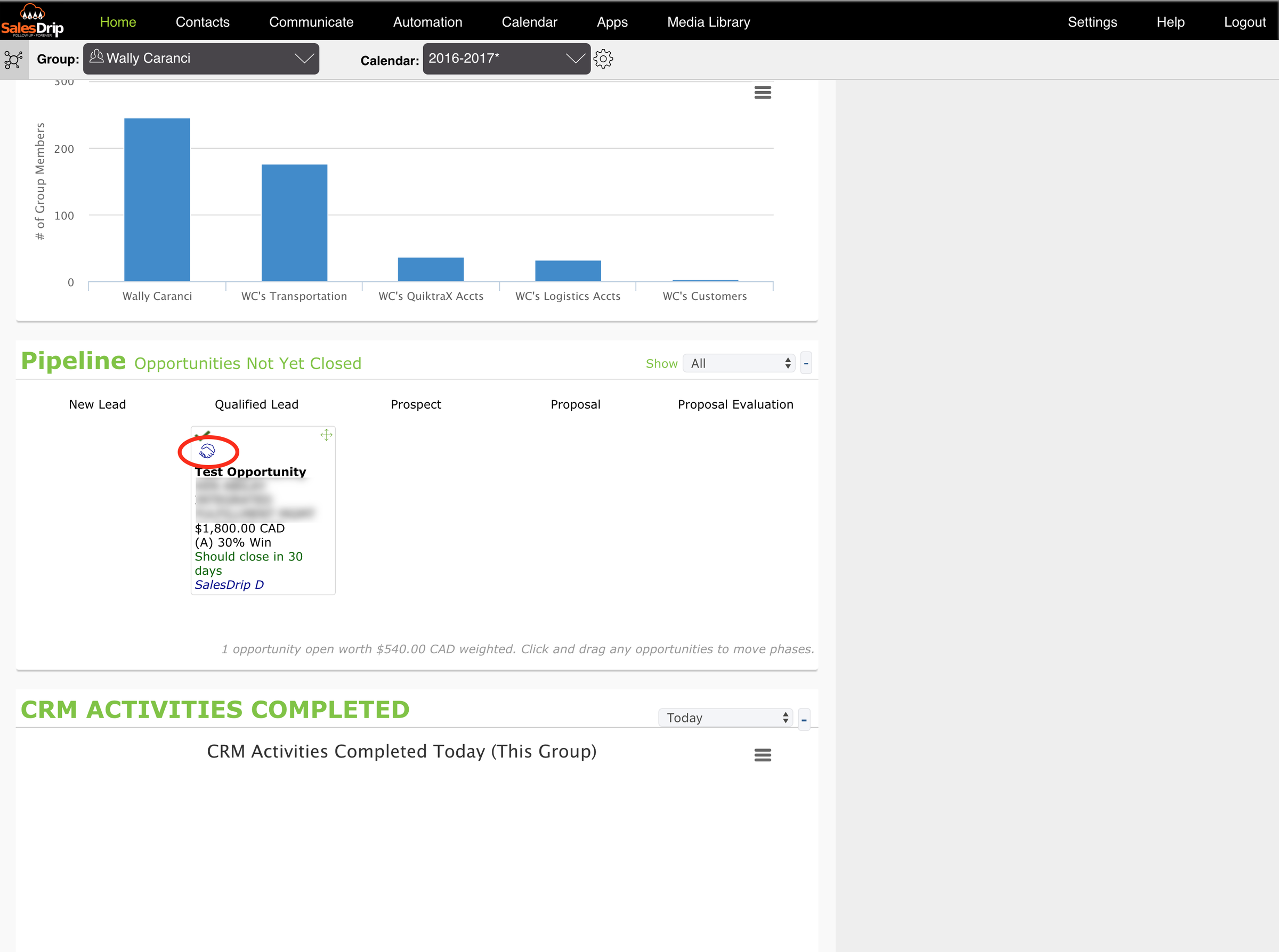 The contact record will open
Next, click the "Edit" button on the opportunity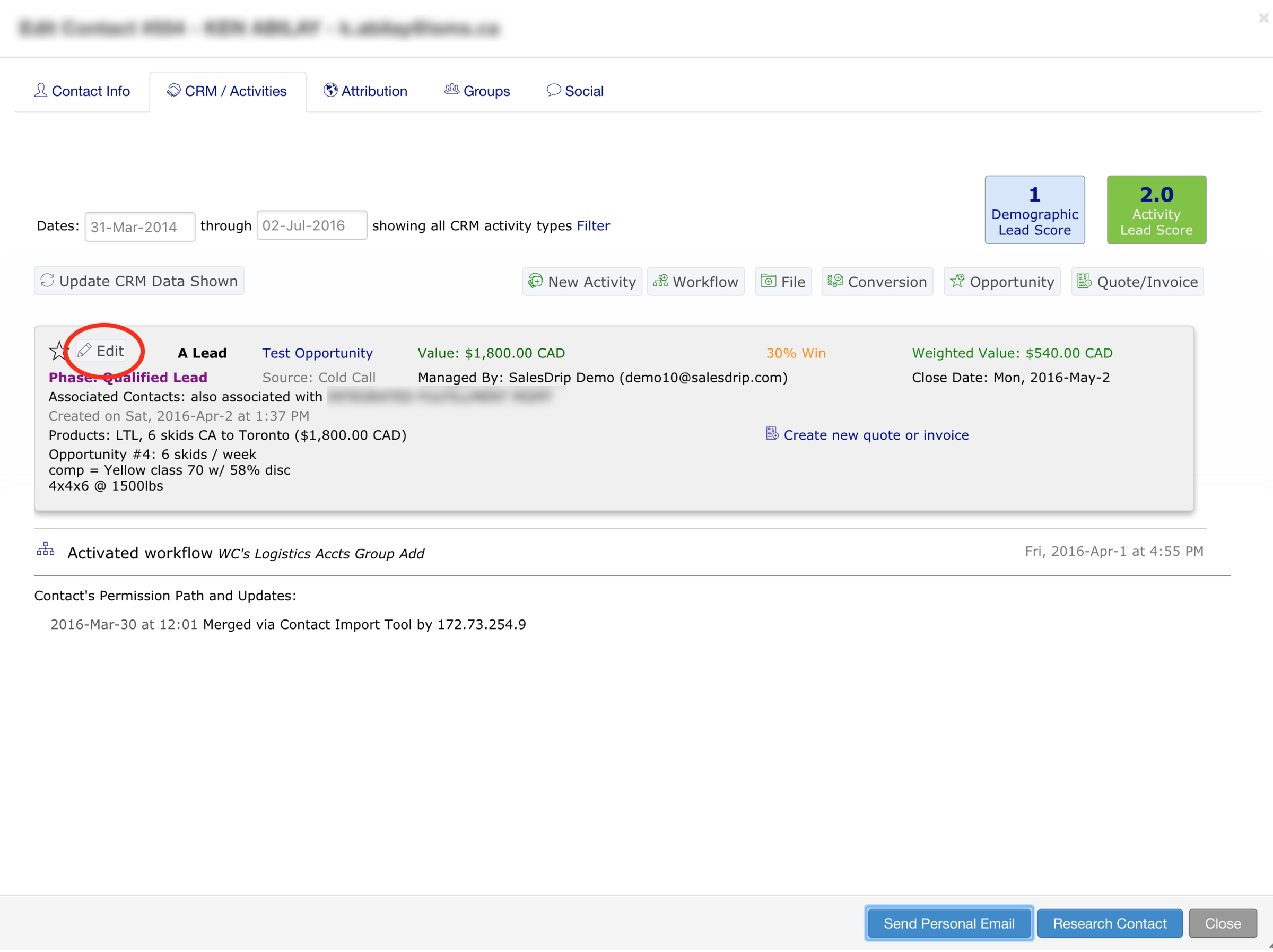 Adjust the "Chance to Win"
Click "Save"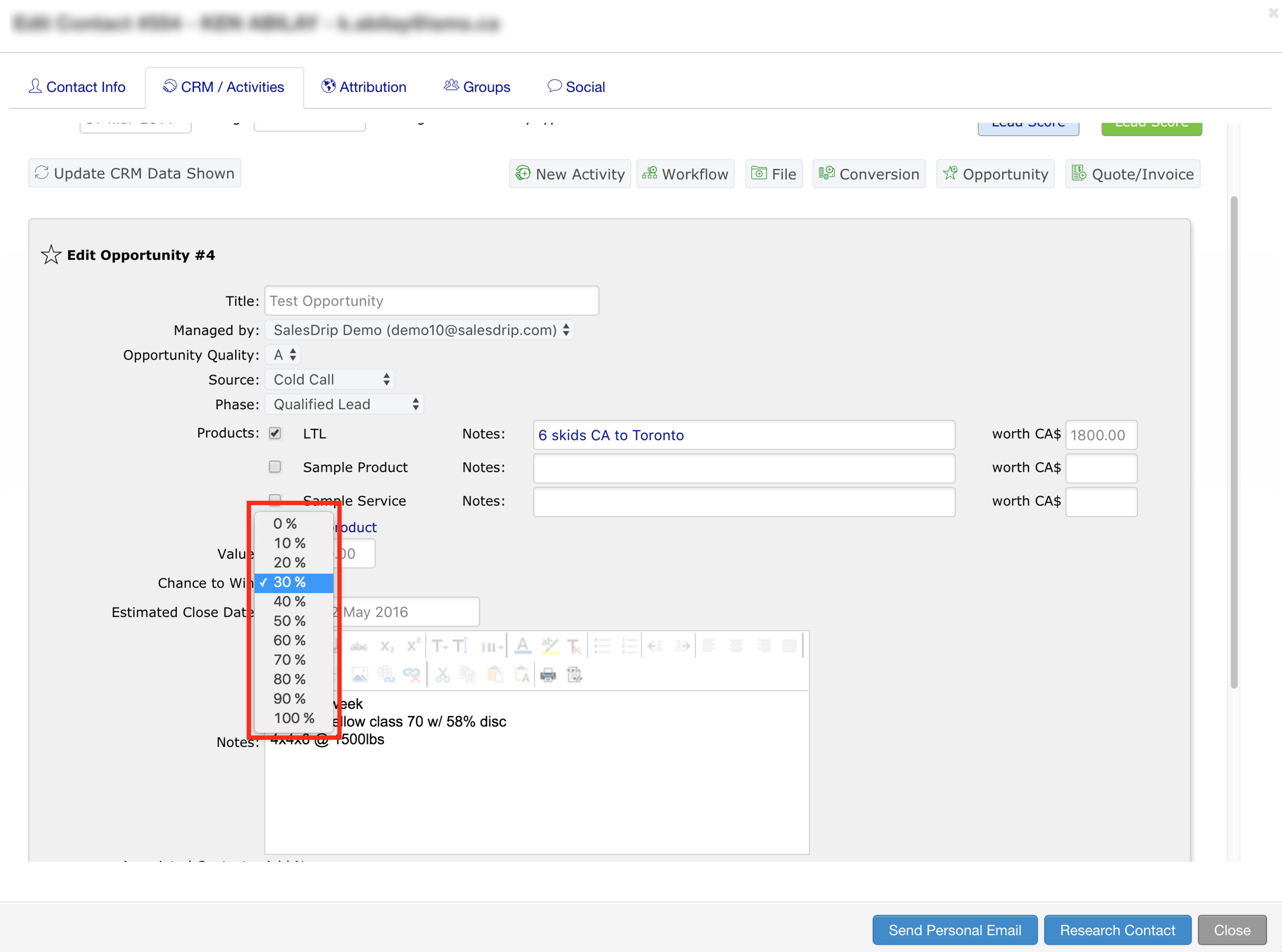 The weighted value of the opportunity will recalculate by multiplying the total value by the %
NOTE: The weighted value update the management reports and forecasts in real time.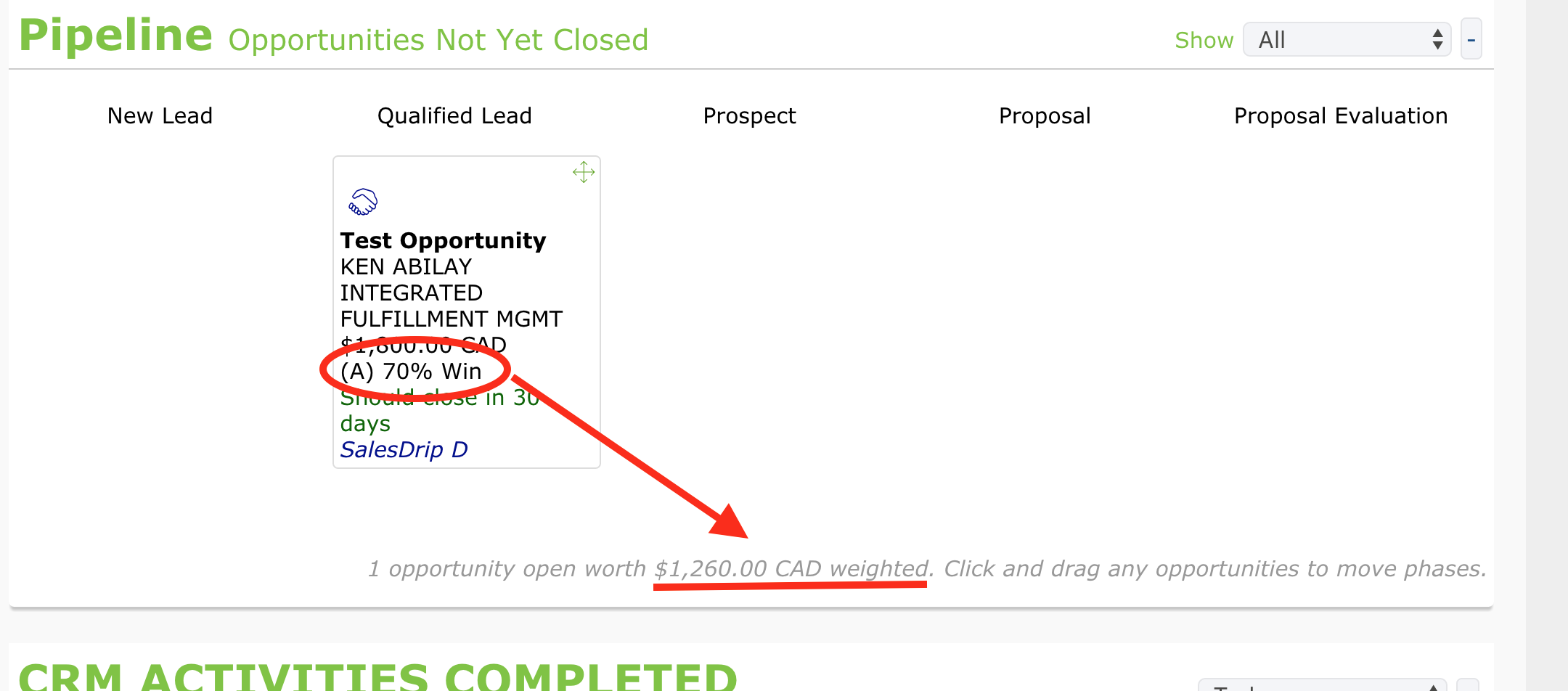 When the deal is concluded (either won or lost), it is critical that you adjust the "Phase" field.
IMPORTANT NOTE: SalesDrip measures and tracks the data from each deal won or deal lost opportunity system wide and uses it to drive our predictive analytics algorithm. Over time, SalesDrip's predictive analytics will start to identify contacts within the database that have the best chances of closing as a "Deal Won". This data enables you to identity and prioritize the contacts in the database that have the best odds of becoming a new customer.