Adding A New Contact
Prior to adding a new contact, be certain that you are in the group that matches your name.
There are two ways you can manually add a new contact.
From the "sliding tray" in the standard dashboard. When you place your mouse over the black colored "Action" at the top right hand side of the screen, the black box turns blue and a tray slides out. Click on the"New Contact" (green oval).

2. From the Contact Screen, click the "Add New Contact" button.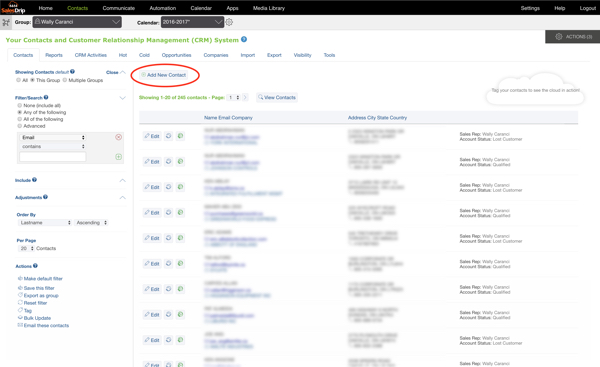 After performing either of the above two methods, the below "Create New Contact" entry screen will appear. Type in any data you wish to save and click the "Create and Close" or "Create and edit further" buttons.
Important Note: It is possible to trigger a drip marketing automation campaign from this screen, so be certain that you have the correct information.